Overview
| | | |
| --- | --- | --- |
| " | Once thought to be extinct, the deadly Brukkarg Tribe has risen again - greedier and more power-hungry than before.Prepare to attack and defend against these deadly foes! | " |
Reward(s)
Event Information
The Brukkarg War is an event that started on July 19, 2012, and ended on July 23, 2012. This event's main focus is the Brukkarg Tribe - a tribe that many low-leveled players have destroyed to win Vorg and Slimeattikus. But the Brukkarg Tribe has seem to come back from the dead, and they want revenge. This event is similar to the Wild Monster Invasion format that the player can choose at any time to send the next wave of monsters at their base. Like the previous wild Monster Invasions, the waves get stronger and stronger. However, there are a few key differences.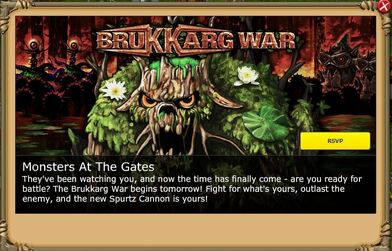 In this event, you get a chance to attack the Brukkarg Tribe back every five waves you successfully defended against. You must destroy their Town Hall to declare victory.
After defeating the Brukkarg Tribe's yard 3 times, you earn a Spurtz Cannon as a reward.
Defeat the Brukkarg Tribe's yard a 4th time, and you get a second Spurtz Cannon.
Defeat the Brukkarg Tribe's yard a 5th time, and all your Spurtz Cannons become black diamond, increasing their stats.
Wavelist
Gallery
Trivia
It is the shortest event.
It is the first event to have a Defensive Building as a reward.
Malphus was the only Monster that did not appear in this event.
Ad blocker interference detected!
Wikia is a free-to-use site that makes money from advertising. We have a modified experience for viewers using ad blockers

Wikia is not accessible if you've made further modifications. Remove the custom ad blocker rule(s) and the page will load as expected.