General information
The Chaos Factory is a building that a player can build in the backyard, but requires Inferno resources to build.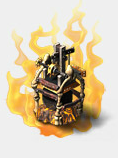 In this building you can build Chaos weapons that you have unlocked and used to battle
Building and Upgrading
Level
Cost

Construction Time

Repair Time

Prerequisites
HP
Bone
Coal
1
1,500,000
1,500,000
1d
1h

L1 Under Hall

L1 Chaos Lab

1,000
Creating Chaos Weapons
Level
Cost
Construction Time
Prerequisites
Bone
Coal
Sulfur
1
28,648
14,324
28,648
4h
Unlocked Loot o Tron in the Chaos Lab
Ad blocker interference detected!
Wikia is a free-to-use site that makes money from advertising. We have a modified experience for viewers using ad blockers

Wikia is not accessible if you've made further modifications. Remove the custom ad blocker rule(s) and the page will load as expected.