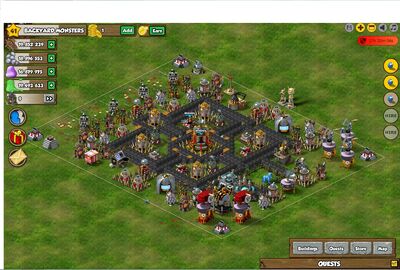 Ultimate Quadrant Base
Without Tower Range
With Tower Range
Advantage:
1.Good Wall placement
2.Good Champion Cage pleacement
3.Good Bomb placemet
4.Good ADT placement
5.LT,ADT and Railgun can't be destroyed
6.Survive 20 waves in monster invasion II (actually it's 28)
7.Monster Bunkers can't be easily baited if Level 6 DAVES inside
Disadvantage:
1.Level 6 Drull, Level 6 DAVES 4 and Level 5 Zafreeti 4
2.Eye-ra can easily destroy inner walls (after the outer defense is destroyed)
3.Monster Bunkers easily baited if Eye-ra are inside
4.Monsters easily destroy silos if LT's and Railguns are destroyed
Ad blocker interference detected!
Wikia is a free-to-use site that makes money from advertising. We have a modified experience for viewers using ad blockers

Wikia is not accessible if you've made further modifications. Remove the custom ad blocker rule(s) and the page will load as expected.