Tower Description
Fires bursts of magma rock that do massive damage.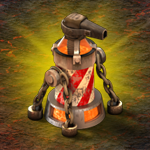 Building Information
The Magma Tower requires a Level 3 Under Hall to build.
This tower will defend your base by rapidly firing bursts of magma at a single enemy monster. It will keep firing at the same monster until it dies. It will then cool down for a second, then fire at the next enemy monster in its range.
The Magma Tower has a somewhat poor range, so it cannot protect very many things. Nevertheless, it will almost always destroy a single monster in a matter of seconds.
Attack
Land
Air
Constant Fire
Constant Fire
Ammo
Magma Rocks
Upgrade Progression
Trivia
The Spurtz Cannon's design is somewhat similar to the Magma Tower, except that the Spurtz Cannon fires living Spurtz instead of Magma.
Among all of the aerial targeting Defense Towers, the Magma Tower has the shortest range.
Ad blocker interference detected!
Wikia is a free-to-use site that makes money from advertising. We have a modified experience for viewers using ad blockers

Wikia is not accessible if you've made further modifications. Remove the custom ad blocker rule(s) and the page will load as expected.