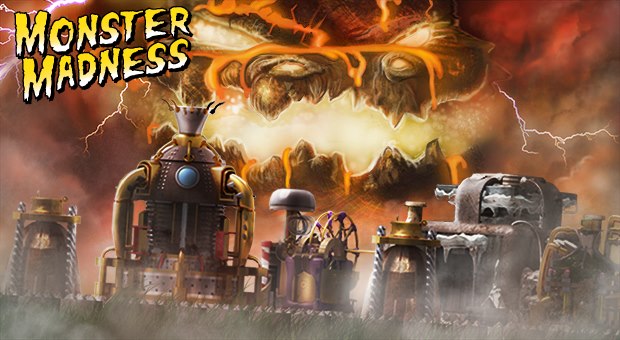 Overview
Monster Madness

—Image © Kixeye
Information
Requirement
Map Room 2
Date
March 22 to March 28, August 16 to August 22
Reward(s)
Korath, Breath of Fire, Fists of Doom
 

Monster Madness 1:
| | | |
| --- | --- | --- |
| " | Moloch's favorite Inferno pet, Korath, has abandoned him. It seems Korath has developed a taste for Putty, and he's been running around the Outposts in the World Map on a gluttonous binge. If you can capture him, he will add a big boost to your army. The search begins March 22nd. | " |
Monster Madness 2:
| | | |
| --- | --- | --- |
| " | Korath can't be stopped! He loves chaos as much as he loves Putty. Your Outpost could be next! You'll need to track him down, capture him, and use him in your monster militia. The hunt begins 8/16. - Think you're ready? | " |
Reward(s)
Event Information
This is a event that you may only use if you have a level 2 Map Room(costs 1mill pebbles and twigs, and a level 6 Town Hall). The mechanics are simple: what you have to do is take over as much Outposts as you can to fill up the quota. If the Outposts contains more empire points, the quota will be filled up faster. 
Each Ability of Korath (Except for its Burn Ability) has its own quota. Once you have filled up the quota for Korath, there will be a second quota which gives you Koraths first ability, Breath of Fire, once completed. After obtaining the Breath of Fire, the final quota which contains Koraths final ability, Fists of Doom, will appear. Once that is done, congratulations, you have obtained the mighty Korath and its ability!
For players whose Town Hall are below Level 5, they will still recieve the message, but the message is slightly different.
Another Monster Madness event was released in August 16. The event is still the same.
As there is no more Map Room level 2, This event will most likely never repeat again. Korath and its abilities will be obtainable in the Hell-Raisers event instead.
Bugs 
Monster Madness 2
Before the second Monster Madness event, many players reported that their Koraths were missing.
The Bar doesn't move when you take over an outpost. Simply refresh the page and the bar will move.

When refreshing to fix the glitch on the bar, sometimes the bar will drastically increase, instantly giving you the rewards.
Gallery
Monster Madness 2
Trivia
It is the only event to be repeated, with nothing changed.
Korath is now obtainable in the Hell Raisers event after this event.
It is the first event to feature a Champion Monster.
Ad blocker interference detected!
Wikia is a free-to-use site that makes money from advertising. We have a modified experience for viewers using ad blockers

Wikia is not accessible if you've made further modifications. Remove the custom ad blocker rule(s) and the page will load as expected.