The Design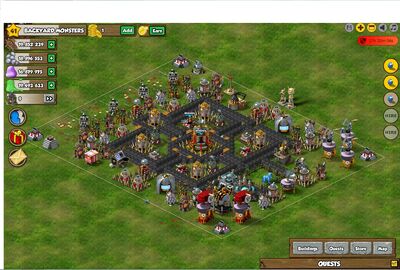 The Quadrant base is a base that divides the yard into four main sections. There is a little space in between the sections, allowing for a small Silo Death Trap. Each section has a good amount of Defensive Towers protecting it, making the base quite solid.
This design is slowly becoming obsolete in favor of other designs, due to the odd number of Defensive Towers the player can build. (3 Railgun Towers, 3 Tesla Towers, 3 Laser Towers.)
How it Works
The design is divided into four sections, each containing at least one Storage Silo. Monsters will (or should) path into the small alley between the sections, where it is riddled with a mass amount of Booby Traps. If monsters manage to get through those, they will have to deal with Defensive Towers from other sections of the base. Each section is protected well.
Pros and Cons
Pros
Decent defense for lower-leveled players.
Easy to build.
Very adjustable.
Quite high Concentrated Firepower.
Cons
Ad blocker interference detected!
Wikia is a free-to-use site that makes money from advertising. We have a modified experience for viewers using ad blockers

Wikia is not accessible if you've made further modifications. Remove the custom ad blocker rule(s) and the page will load as expected.